BIO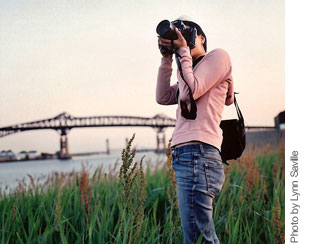 Minny Lee is a multimedia artist who employs photography, audio, video and site-specific installation work. Lee's work contemplates the concepts around time and space and the coexistence of duality. Growing up in South Korea, she was influenced by Buddhism, Confucianism, shamanism and Taoism. Lee obtained a Master of Arts in Art History from City College of New York and Master of Fine Arts in Advanced Photographic Studies from
ICP
-Bard. She was awarded a fellowship from the Reflexions Masterclass Program in Europe and participated in an artist-in-residence program at Halsnøy Kloster in Norway. Her work has been exhibited at Datz Museum of Art, The Center for Fine Art Photography, Ise Cultural Foundation Gallery, Les Rencontres d'Arles, and Pingyao International Photo festival, among other venues. Making hand-made books is a passion of her and books she has created have been exhibited and sold at venues such as the New York Art Book Fair,
LA
Art Book Fair, Codex Book Fair,
URCA
Photobook Fair and Honolulu Print & Book Fair. Lee taught photography classes at the University of Hawaii at Manoa. Lee is a faculty member at the Honolulu Museum of Art School and at the International Center of Photography teaching bookmaking classes. She lives and works in Honolulu, Hawaii.
ARTIST CVEDUCATION
2016 Master of Fine Arts, Advanced Photographic Studies Major,
ICP
-Bard, New York, NY
2014 Master of Arts, Art History Major, City College of New York, NY
2011 Reflexions Masterclass (Completed 2-year photography workshop in Europe)
2008 One-year Certificate Program in Documentary Photography and Photojournalism, School of the International Center of Photography, New York, NY
1999 Bachelor of Science, Merchandising Management Major, Fashion Institute of Technology, New York, NY
SOLO

EXHIBITIONS
2016 "Elsewhere,"
ICP
-Bard
MFA
Studios, Long Island City, NY
2014 "Nightwalker," Gallery Now, South Korea
2014 "Nightwalker," Nabi Museum of the Arts, Teaneck, NJ
GROUP

EXHIBITIONS
2018 "Outlook: Photography Exhibition, East Hawaii Cultural Center, Hilo, Big Island, Hawaii
2018 "2018 National Art at the Center," Overland Park Art Center, Overland Park, KS
2018 "All Staff Exhibition," Honolulu Museum of Art School, Honolulu, HI
2017 "Mixed Media: Miniature Show," Koa Gallery, Honolulu, HI
2017 "Notes to the Future," Galeria Breve, Mexico City, Mexico
2017 "Isolation," East Hawaii Cultural Center, Hilo,
HI
2017 "Notes to the Future," Espacio el Pasajero, Bogotá D.C, Colombia
2016-17 "From Walden," Datz Museum of the Art, South Korea
2016 "Ties That Bind," Camera Club of New York, New York, NY
2016 "All at Once," Rita K. Hillman Gallery at
ICP
School, New York, NY
2016 "Halsnøy Kloster: Tur-Retur," Galleri Losjen, Fitjar (Stord), Norway
2015 "mind-scape," Datz Museum of Art, South Korea
2015 "Weaving Time," Gallery Korea at Korean Cultural Council, New York, NY
2014 "Confessions," Belskie Museum of Art and Science, Closter, NJ
2014 "SAAC Juried Art Show," South Arkansas Arts Center, El Dorado, AR
2014 "Heart of Gold," Nabi Museum of the Arts, Teaneck, NJ
2014 "Time, Dream, and Tradition," Halsnøy Kloster of Sunnhordland Museum, Halsnøy, Norway
2014 "Impulse," chashama 1351, New York, NY
2014 "Contemporary Portraitures," Kiernan Gallery, Lexington, VA
2014 "New Era," Jersey City Hall, Jersey City, NJ
2013 "Finding Winter's Garden," Redroot Gallery, New York, NY
2013 "Artists from Republic of Korea," Lincoln Memorial Hospital, Bronx, NY
2012 "Illusion," Center for Fine Art Photography, Fort Collins, CO
2012 "Reflexions Masterclass 2002 2012," Arles Photo Festival, Arles, France
2012 "Small Works," SoHo Photo, New York, NY
2011 "Uncanny: Surreal Photography," PhotoPlace Gallery, Vermont, VT
2011 "Photo Book Fair" RyuGaHeon Gallery, Seoul, Korea
2011 "In Time," Kiernan Gallery, Lexington, VA
2011 "Dream," Center for Fine Art Photography, Fort Collins, CO
2011 "Blowup Angkor," Angkor Photo Festival, Siem Reap, Cambodia
2011 "Art from the Heart," 25CPW Gallery, New York, NY
2011 "Slideluck Lehigh Valley," Invision Photo Festival, Bethlehem, PA
2011 "12 12 Gallery International Photography Competition," Richmond, VA
2011 "Nature of Trees," PhotoPlace Gallery, Middlebury, VT
2011 "Fans on Facebook," Umbrella Arts, New York, NY
2011 "CCNY Zine and Self-published Photo Book Fair," Camera Club of New York, NY
2011 "Nature Within," Ise Cultural Foundation, New York, NY
2010 "Giving Trees," 25CPW Gallery, New York, NY
2010 "Places," Chelsea West Gallery, New York, NY
2010 "Reflexions Masterclass à Paris," Marie du 4e arrondissement, Paris, France
2010 "Nature Within," 25CPW Gallery, New York, NY
2010 "CCNY Zine and Self-published Photo Book Fair," Camera Club of New York, NY
2010 "9th Annual International Photography Competition," Fraser Gallery, Bethesda, MD
2010 "What We Saw: Dialects,"
ICP
Education Gallery, New York, NY
2009 "Azama Project Summer Fundraising Auction," Clodagh Design Studio, New York, NY
2008 "What We Saw," Pingyao International Photography Festival, Pingyao, China
2008 "Reflect: 2007-2008 Full Time Student Exhibition,"
ICP
Education Gallery, New York, NY
2008 "Mapping Correspondence: Mail Art in the 21st Century," The Center for Book Arts,
NYC
2007 "The Circular Exhibition," Hun Gallery, New York,
USA
/ Ho Gallery, Seoul, Korea
2006 "The Portrait," Women in Photography International juried online exhibition
2006 "September 11 Archive," International Center of Photography online exhibition
BENEFIT

AUCTIONS
2016 "Camera Club of New York Benefit Auction," Affirmation Arts, New York, NY
2014 "KPM Gala," Nabi Museum of the Arts, Teaneck, NJ
2014 "ICP Spotlights Silent Auction," New York, NY
2013 "Camera Club of New York Benefit Auction," Affirmation Arts, New York, NY
2013 "AHL Foundation Benefit Auction," Zen Garden, New York, NY
2013 "Waterfall Gallery Silent Auction," Waterfall Gallery, New York,
NY
2012 "Wa Photography Auction," 72 Gallery, Tokyo, Japan
2012 "Camera Club of New York Benefit Auction," 25CPW Gallery, New York, NY
2011 "AHL Foundation Silent Auction," Space on White, New York, NY
2011 "Wa Photography Auction," 25CPW Gallery, New York, NY
ART

FAIRS
2014 Fountain Art Fair, New York, NY
AWARDS
2014-2016 Director's Fellowship, International Center of Photography
2014 First Place, "SAAC Juried Art Show," South Arkansas Arts Center, El Dorado, AR
2012 Selected Artist – Sunnhordland Museum Artists in Residence, Halsnøy Kloster, Norway (for 2013 edition)
2012 Honorable Mention – International Photo Awards (2 categories: Fine Art Portrait Pro & People Self-portrait Pro)
2012 Selected for magazine feature – Photo Review International Photography Competition
2012 Nominee – 7th Annual Black & White Spider Awards (4 categories: nature/silhouette/fine art/architecture)
2012 Second Place –
SOHO
Photo Small Works Competition
2011 Finalist – 12 12 Gallery's 6th Annual International Juried Photography Exhibition
2011 Honorable Mention – International Photo Awards (Self-portrait category)
2010 Finalist – Fraser Gallery's 9th Annual International Photography Competition
2008 Honorable Mention – International Photo Awards (Deeper Perspective category)
2006 Honorable Mention – Women in Photography International "The Portrait"
2006 First Place – Brooklyn Museum Student Advisory Board Photo Competition
PUBLICATIONS
2016 Gitz Magazine vol. 8, Datz Press, South Korea
2016 Elsewhere, New York, NY
2015 Photo Plus Magazine, South Korea
2015 Encounters, Datz Press, South Korea
2014 Photo Dot Magazine, South Korea
2012 Reflexions Masterclass 10 Years, Actes Sud publisher, Arles, France
2012 Photo Raw magazine, Helsinki, Finland
2012 Inside Art, Rome, Italy
2011 Fondazione di Venezia: Reflexions Masterclass IW, Italy
2010 Novartis Campus Basel: Reflexions Masterclass IW, Peliti Associati, Italy
2010 Mois de la Photo À Paris 2010: Paris Collectionne, Actes Sud/ Maison Européenne de la Photographie, Paris, France
2010 Korea Daily News, New York
2010 What We Saw: Dialects, New York
2009 Newsday, New York
2008 Shift vol.3, International Center of Photography, New York
2007 The Circular Exhibition, Hun Gallery, New York
COLLECTIONS
Sunnhordland Museum, Norway
Center for Fine Art Photography, Fort Collins, CO
Actes Sud, Arles, France
Private collections